Hey bookies! January is national braille literacy month and to celebrate I thought I could broadly define it and offer suggestions on where to find books with braille.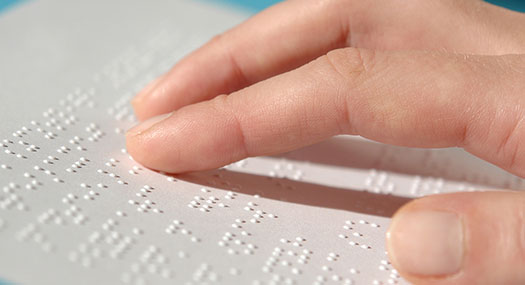 First off, braille is a tactile writing system used by people who are blind, have low vision, and/or deathblind. It's wrote on embossed paper and can be read on the paper or by using technology that uses refreshable braille displays that connect to smartphones or computers. The writing system is named after Louis Braille who developed the system based on the French alphabet as an improvement to night writing (a method of writing with raised dots that could be read by touch developed by Charles Barbier as a tactile military code so soldiers could communicate silently at night and without a light source). Braille modified the code into a one-to-one transliteration of the French alphabet, but soon shorthand methods were also created. The two forms of braille are contracted (shorthand) and uncontracted (long-form where every word is spelled out). Fast forward to today and now there's braille code for 133 languages!
Because of the size of braille lettering, braille books are much bigger than their counterparts and they're usually broken down into volumes like encyclopedias are. For example, Webster's Unabridged Dictionary is 72 volumes in braille! There's also such a large community that reads braille that there's an annual competition for students to compete in reading comprehension, proofreading, and spelling categories. There's also the Nemeth Code, which is a version of braille for math and you can even get tattoos in braille! Mainstream toys, like Monopoly and Legos, are also starting to enter the braille world by making their toys more accessible to every child.
Usually most people don't see braille books. A lot of libraries carry them and you can always talk to your librarian about obtaining some if needed. When I volunteered at the library in my hometown I remember seeing some and taking the time to look through them. You can also contact organizations like Braille Books for the Blind, Braille Institute Library, and Braille Books Program for access to braille books. However, with the advent of technology, braille is evolving onto computers, phones, and e-readers. There are also audiobooks, which can be less expensive than braille books and more accessible for some to use.
Hopefully you learned something today as I did while making this post. Mostly, I wanted to make this post because a lot of people say that accessible reading, like audiobooks, isn't real reading. People who say that tend to forget that not everyone has sight to see printed words. Many people, not just those who are blind, have issue seeing printed words for various reasons and gatekeeping reading is not going to be accepted in 2022.